How do schedule blocks work?
With Delivery Logistics, you have complete control over your schedule; you choose exactly when you want to drive and how many hours you work. To facilitate this process, we use an app called Humanity to allow you to claim time blocks.


If you haven't download Humanity yet, follow the links below:
Claiming Time Blocks
Once you've set up your login info, you can use the Humanity app to start claiming delivery times. Though claiming blocks is not required, it activates a special incentive: orders accepted and completed during your selected block times earn an extra $1 per order!


Our time blocks occur in two-hour increments and can start as often as every 30 minutes. (ex. 8:00 AM to 10:00 AM, 8:30 AM to 10:30 AM, etc.)


Here's how to get started:


When you open the Humanity app, you will see any blocks you have selected and a list of available blocks to pick up. Click See More under each to view the full list.


Click on any available block you would like to pick up, and then click Request Open Shift. A pop-up will appear. Hit Proceed to add this block to your list.


You can also view more blocks within the ShiftPlanning tab. Here you can view by a specific date or week as well as filter by the following:
My Shifts: Blocks you have selected
Pick Up: Blocks available for pickup
All: Default view showing both available and chosen blocks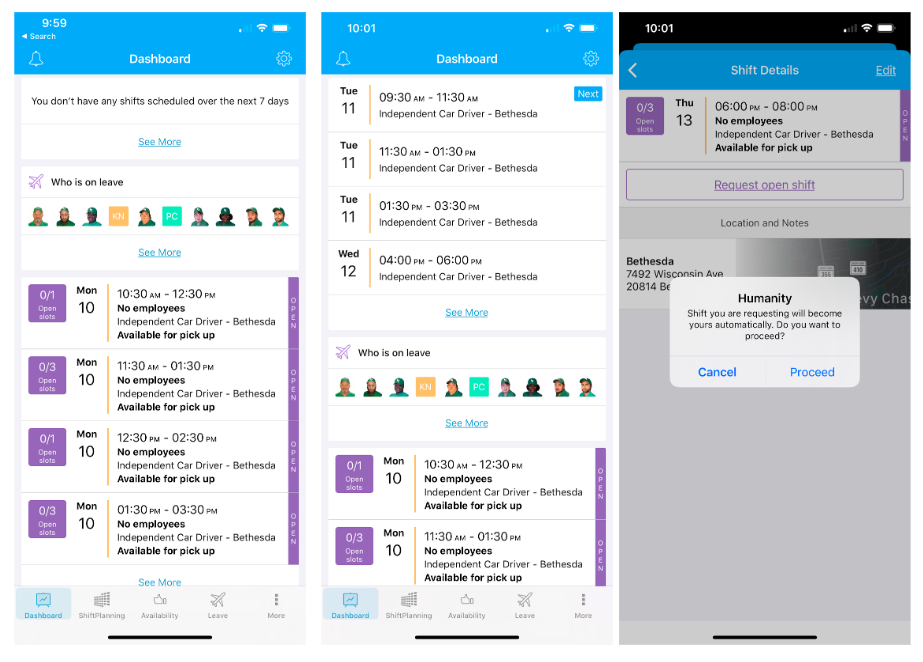 Note: The terms shift and employee are part of the Humanity program; Delivery Logistics still operates on a time block and contractor model.
You can claim as many or as few time blocks as you like! To make sure you get your optimal times, you can claim blocks up to one week in advance. And, if you realize later that you need to drop a shift, no worries; you can drop a shift at any time.


Remember: Orders accepted and completed during your selected block times earn an extra $1 per order!